news
Canada and Russia were the dominant nations at 15th TGW Future Cup in gymnastics
Great art of gymnastics were shown at 15th TGW Future Cup last weekend in Linz. More than 130 young gymnasts from 16 countries and 4 continents showed in the "Citiy of steel" gymnastics on world class level.

Team Canada captured the victory from last year's winner Italy with three wins out of four. In the team competition, the national team Canada (236,999 points) was able to claim victory ahead of tournament newbie St. Petersburg (233,633 points) from Russia. Japan's successful team had to get satisfied with third place with 227,168 points but could not put any of its gymnasts on a single podium. Behind other prominent teams were found with Great Britain in 4th place, last year's winner Italy in 5th place and Team Australia in 6th.

In the highest class U18, favourite Felix Dolci of Canada won with a respect gap of almost 3 points (81,133). Behind in 2nd place were Mathew Boardman of Great Britain (78,368 points) and Felix Blaquiere (77,300 points) from Canada in 3rd place. The victory of the Canadian talent was not surprising, since he came with a success from the youth Olympic Games in Buenos Aires to Linz, where he finished second at the rings. Also a prominent gymnast can be found in this class at 7th place, Jurii Busse from St. Petersburg. He was able to clinch the European team title with the Russian team in Glasgow in 2018. Yannik Lehner (68,601) from Lower Austria finished 10th as the best Austrian, ahead of Daniel Zander (66.067) from Tyrol.
In the "middle " category of the U16, a Canadian also won, Evgeny Siminiuc (78,533 points) ahead of Vladislav Gudz from St. Petersburg (77,766 points). Third place was claimed by Lorenzo Bonicelli of Italy with 75,733 points. Just behind were Japan's Katsuki Iwamoto (75,534 points). He missed a podium place unfortunately with a totally bad exercise at the paralell bars. The best Austrian in this class was Askhab Matiev (65,568) in 30th place overall.
The U14, the youngest class was an issue for the Russian team. The double victory was made out among themselves, Timofei Prostakov (78.167) at the top podium and Ilya Zotov (74.167) at second place. Oakley Banks secured the hard-fought 3rd, where the two Brits (Oakley + Liam Jury) and a Japanese (Kazushi Wakahara) has competed, who ended up just 0.3 points apart. Best Austrian in this category was Alfred Schwaiger (65,600) from Lower Austria.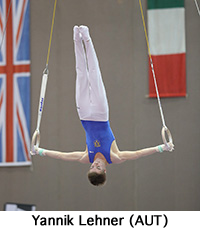 All Austrians didn't have a good day at the weekend. In the team results, the national team (198.668) remained at 19th place below expectations. All the other Austrian teams ranked themselves in the back field of the strong competition field.

Overall, the 15th TGW Future Cup were unanimously praised by all participants due to the excellent organisation and lovely care. The level of difficult, which the gymnasts has shown rises every year and was the highest in TGW Future Cup history. Russia's team was particularly enthusiastic and immediately promised its next year coming. Unfortunately, this year the announced team from Iran had not received any visas and was therefore missing.