news
Italian gymnastics team sensationally beats Japan
Artistic gymnastics at its best was offered last Saturday at TipsArena Linz at 13 TGW Future-Cup. The Japanese team was defeated for the first time after four victories in a row. With around 0.3 points ahead and 240.550 points the team VEL (Veneto - Emilia Romagna - Lombardy) could place in front of the Japanese defending champion (240.250 points). The Canadian team from Quebec (233.350 points) finished behind on 3rd place.
Pleasing the nation the Austrian national team followed in fourth place with the gymnast Johannes Mairoser, Manuel Arnold, Askhab Matiev (all Tirol) and Leonard Gross (Welser TV) (228.450 points). Gross could give a solid performances on all 6 apparatures. In the 1998/1999 age group, he finished 12th place in the individual ranking as the second best Austrian gymnast. The very young team from Oberösterreich, handicapped by injury and illness had no chance to line up on top in the top-class international field.
Japan dominated in the U18 competition. Mamoru Kondo won the competition with a solid performance and 81.500 points. In this category, there were two second places (80.600), the strong Italian Stefan Patron and the only 14 year old Japanese Daiki Hidaka. Stefan could achive specular highlights on the rings, and Daiki on the parallel bars with each scoring over 14,000. Austria enjoy the 4th place by Johannes Mairoser (80,000) only with 0.6 points behind. He was also brilliant at the vault with a rating over 14,000.
The U16 category was won by Canada with Oliver Menezes-Thibault (78.600). Second was Fabrizio Valle from the powerfull Italian team with 77.550 points. The third place hit David Rumbutis (77.300), who perhaps loss the victory with his floor routine (11,700). This age class was strong and well balanced. So, only 4 points separate winners and 10th place. Florian Schmidle (69.200) from Vorarlberg received the 25th place for best Austrian.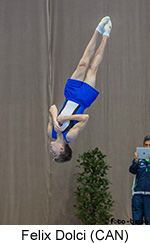 The youngest category of under 14-year-old won the exceptional talent Felix Dolci from Canada with 79.850 points. The 2nd place Masaharu Tanida (76.950) from Japan is only 11 years old and beat competitors three years older than him. Third was from Italy, Ivan Brunello (75.350), which also contributed to the victory of the Italian team. Best Austrian in this class was Askhab Matiev (69.550) on the 23rd place.
Overall, the "Small Linz Gymnastics World Championships" was praised unanimously by all participants from 17 countries from 4 continents due to the excellent organization and the lovely care. And according to the motto, first come first serve, many said they will come to the 14 TGW Future Cup on 25 November 2017 again.