news
Italian gymnastics team regain their triumph from last year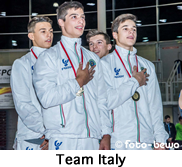 Artistic gymnastics at a very high level was offered last Saturday in TipsArena Linz at 14th TGW Future-Cup. This years Italian team could regain the Team title from last year with 228.600 points ahead of the team from Quebec/Canada with 0,750 points behind. Third on the podium were the Japanese team (227,550), which have won the 2nd place last year. All podium places seperates only by 1.050 points, which show us the enormous quality of the competitors at the Future-Cup this year. The Austrian National Team represented by Daniel Zander, Yannick Lehner, Askab Matiev and Maximilian Fritz achieved the 10th place. The rookie team from Oberösterreich got the 20th place and lot of experiences for their future career.
In the U19 competition William Emard (CAN, 77.100) und Justin Pesesse (BEL, 77.050) went head to head till the last apparature, when William could get the vitory by only 0.050 points ahead of Justin. Third on the podium were Diallo Thierno Boubacar (ESP) with 76.550 points. Highlights in this category were shown from by William Emard on floor (14.050) and vault (14.250). David Zander from Tirol got the 10th place with 71.950 points and became the best Austrian gymnast of the whole competition.
In U17 category Ares Frederici from Italy took the victory with 76.200 points. The 2nd place shared Shoma Tukiyama (JPN) and Mirko Galimberti (ITA) with 75.400 points. Felix Dolci, who got 4th may have forgiven the victory on the floor with poor 11.250 points, but he still got good 75.150 points in total. This age class was strong and well balanced. So, only 4 points separate the winner and 10th place. Austrians Askhab Matiev (68.000) was best Austrian in this category on 26th place.
The youngest category U15 was the biggest one with 57 competitors. The victory were taken by Masaharu Tanida (JPN, 78.200), only 12 years old, with a 4 points lead ahead of Harley Spann (GBR, 74.200) on 2nd place. James Hardy (AUS, 73.250) completed the podium on 3rd. Best Austrian gymnast in this category was Paul Schmölzer (66.000) from Linz on 26th place.
Overall, the "Small Linz Gymnastics World Championships" was praised unanimously by all 115 participants from 29 teams from 4 continents due to the excellent organization and the lovely care. And according to the motto, first come first serve, many said they will come to the 15th TGW Future Cup again.